Did Meghan Markle Break Royal Protocol With Thigh High Slit Dress?
Prince Harry and Meghan Markle have been on their royal tour of Australia for about a week now, which means the Duchess of Sussex has worn a ton of ah-mazing outfits for us to envy. Her latest look, though, is causing some controversy for the newly minted member of the royal family. During a stop at Australia's Fraser Island, Meghan wore a linen maxi dress from Reformation with a pair of strappy sandals. Some royal watchers took issue with the thigh-high slit in the dress and shamed Meghan for her decision to wear the dress on Kensington Palace's Instagram.
"So inappropriate for someone representing the Queen," one follower commented. Another criticized Meghan for dressing like, "she is not on a holiday, or on vacation, her and Harry are on a tour representing the queen, they should dress and act like it but instead, they are acting like they are in a solo vacation somewhere."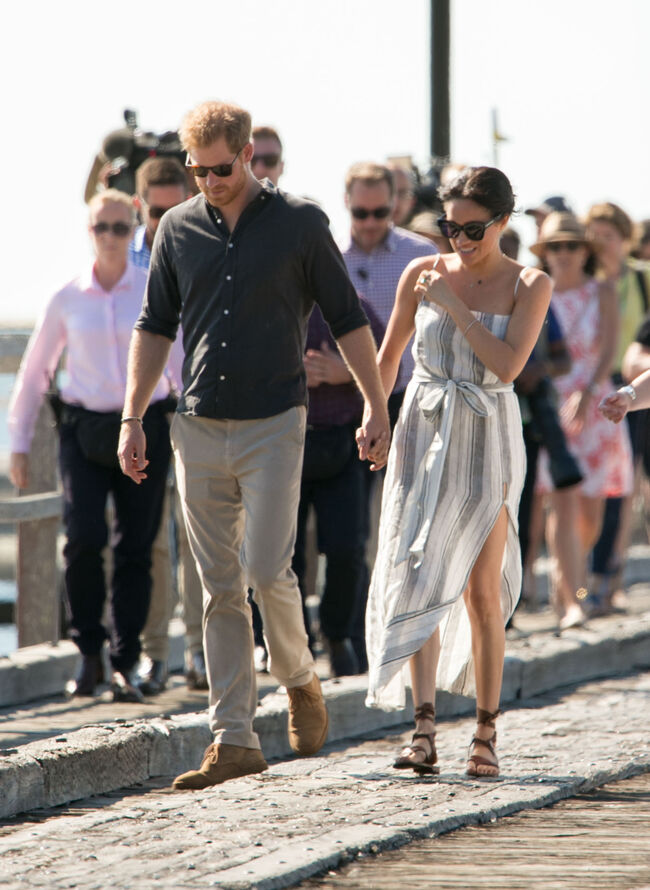 It doesn't seem like royal family has an issue with the dress, though, because they shared a few images of Meghan with much of her leg visible.
While there were plenty of critics, many royal watchers came to Meghan's defense. One of Meghan's defenders reminded other commenters that the Duchess is pregnant and when you're pregnant, "the heat is your worst nightmare… Did u forget they're in Australia??? Leave that girl alone. Meghan is here to stay."
Though people were quick to claim Meghan was breaking royal protocol, it turns out that's not actually true. Elle spoke with Myka Meir, Beaumont Etiquette's founder, who revealed that Meghan "has an entire team of aides that call [in] pieces...they would have pulled appropriate pieces. The palace is very involved in what she wears and her presentation. And of course she has the final say, but there wouldn't have been any of her breaking rules."
The "Pineapple Dress" from Reformation is already sold out, so, you know more people were loving Meghan's look than hating on it.
Photo: Getty