http://stylenews.peoplestylewatch.com/2014/08/19/miranda-lambert-haircut-layered-bob/Wednesday Gossip
Miranda Lambert debuted an even shorter hair cut on Instagram Monday night. People reports that the "Platinum" singer posted a new picture showing off a choppier, more rock-inspired bob with the caption, "Fresh cut! Fresh color! "Somethin' bout PLATINUM!" Lambert first debuted a shorter look a few weeks ago.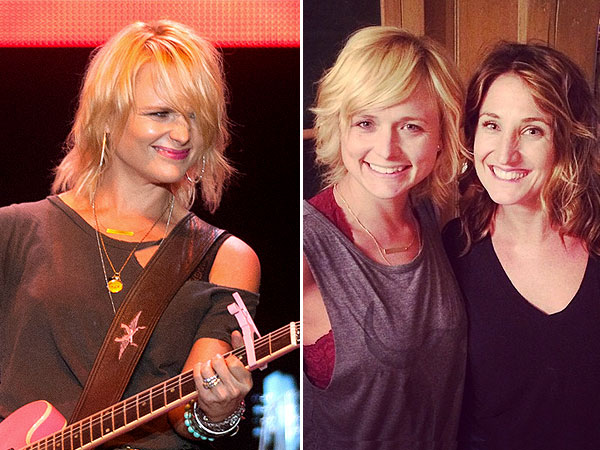 Read more: http://stylenews.peoplestylewatch.com/2014/08/19/miranda-lambert-haircut-layered-bob/
Trisha Yearwood is returning to the world of country music in a big way this fall. The singer announced during a press event on Tuesday evening that she's signing with Sony Music Nashville, launching her own imprint Gwendolyn Records and will be releasing her 12th studio album PrizeFighter soon. Trisha's signing with Sony follows her husband Garth Brooks' own announcement that he'll be releasing his next album on the label this fall. "We've never been on the same record label, so it was kind of born out of looking to find a home that wanted to work with both of us," said Yearwood, noting that her new record imprint is named in honor of her mother. In the meantime, Yearwood is getting ready to hit the road with Brooks next month.
Tim McGraw is a bit of a health nut but he admits that when football season rolls around he loosens the reins a lot on his diet. He likes cheese dip and Doritos and tacos and chili, and all that sorta stuff. Some of his favorite things to have during football season are Frito pies, which are Fritos, cheese and chili. He says he will just have extra workouts during the week.
Madonna's personal and professional life will be be auctioned on November 7th and 8th. Billboard reports that the Icons & Idols: Rock n' Roll auction will include pieces from her videos for "Material Girl," "Music" and "American Pie." More than 30 items from the 1996 film Evita will also be available, as well as an MTV Video Music Award, an American Music Award, written lyrics, a diary from 1988, and a 1972 yearbook.
Reports are that the NFL asked Katy Perry, Rihanna and Coldplay for money in exchange for securing the halftime slot, which ensures exposure to hundreds of millions of viewers. However, sources told the Wall Street Journal that the idea was not received well by the artists. In the past, the NFL hasn't paid artists to play the halftime show, but has covered travel and hotel expenses.
In a new interview with Rolling Stone Country, Motley Crue discuss how similarities between country and rock music inspired the recently released Nashville Outlaws: A Tribute to Motley Crue album. Vince Neil says, "What I remember of country, 30, 40 years ago, isn't what it is today. Today, it's rock-n-roll. It's more rock than a lot of the rock-n-roll out there is." Nikki Sixx goes on to say that country artists in 2014 present themselves in the same way that rock bands did in the '80s. "I remember watching some country awards show, and I was going, 'Jesus, they have pyro, girls, production, lasers, smoke, and shredding guitar players,'" Sixx says.
Lee Brice is featured in the new Redbook magazine talking about love. He says when he's not on the road he and Sara enjoy having date nights at home. Lee and Sara were in an on-again, off-again relationship for 13 years before they got married and he believes love is a choice. "You can have a feeling, and then feel like you don't want to be in that relationship anymore because of some problem. But to love someone means even if your heart is broken, you choose to get through it. You commit. He also says, " I didn't dance before, but I'm telling you, I'm dancing now."